Bowen Therapy Birmingham
If you live in Birmingham you are within distance to Experience Bowen Therapy with Feel Bowen today. Bowen Therapy involves numerous sets of moves on precise areas of your body. After each procedure the therapist gives the client a small rest period (approximately 2 minutes) which allows the body and brain to start responding to the treatment. Each action is tailored to the client's specific needs, which is always on a holistic level.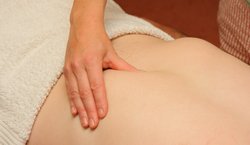 The client will usually lie on their front to begin with so work can be done on their back, shoulders, gluteals and legs, and then the client will turn over to have further work done on their knees, neck and head, and if required pelvis, abdominals, hamstrings, shoulder, elbow, ankle, foot, or face. Virtually any symptom can be addressed.
After the treatment, the client will sit up and have a drink of water and we will review together the work done, how the body felt through the muscle tissue, fascia, nerves and lymph and circulation, and what may be needed for further treatment. I may also suggest simple home exercises to assist the body to rebalance itself.
Other Birmingham Bowen Treatments
Bowen Treatments can help ease the symptoms of a number of other conditions such as detox, whiplash, arthritis and many more. If you have a specific treatments in mind then please click here to view our full list of Bowen Treatments offered.
Contact Feel Bowen
If you are from Birmingham and would like to book Bowen Therapy or enquire about what Feel Bowen can do for you Contact Us today on 07721 920 372 or fill in our Online Enquiry Form.