Bedwetting Therapy using the Bowen Technique
Bedwetting issues can have a negative effect on the quality of life for sufferers. Bedwetting Therapy using the Bowen Technique is a tried & tested method for relieving problems. People have studied Treating Bedwetting with the Bowen Technique and recorded positive results.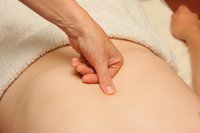 The Bowen Technique was pioneered by Thomas Ambrose Bowen, born in Geelong, Australia almost 100 years ago. He used his thumbs and fingers on precise points on the body to make gently rolling moves, which aim to disturb the muscles, tendons, soft tissue and energy within the body. The treatment is performed by applying gentle pressure which together sequence into 'procedures' that work on a deep, dynamic and often profound level. Feel Bowen's migraine treatments rebalance the body, bringing stability to the nervous system thus relieving clients of pain and discomfort.
For bedwetting, we focus on the lower spine muscles. Treatments are gentle, relaxing and confidential. Bowen can be effective no matter how long you have had the problem and could really help improve your quality of life. For our recent clientele feedback visit out page Feel Bowen's Testimonials.
The Bowen Technique is a system of gentle but powerful soft tissue mobilizations that affects the body both structurally and energetically to restore its self healing mechanism. It is painless, non invasive and safe to use on anyone from the newborn to the elderly and provides lasting relief from a wide variety of acute and chronic conditions.
Contact Feel Bowen
If you or your child are suffering from Bedwetting and would like to enquire about what Feel Bowen can do for you Contact Us today on 07721 920 372 or fill in our Online Enquiry Form.
Other Bowen Treatments
Bowen Treatments can help alleviate the symptoms of a number of other conditions such as Detox, Foot Pain, Arthritis and many more. Click here to view our full list of Bowen Treatments.