Whiplash Treatment Tamworth
Whiplash is a term used to describe a neck injury caused by rapid movement of the head, often during a car or sporting accident. The forceful movement of the head can lead to damage of the ligaments and tendons in the neck.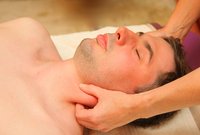 Feel Bowen's Whiplash Treatment in Tamworth rebalances soft tissue such as muscle, fascia, ligament and tendon and energises the circulation and lymph, bringing balance back to the nervous system. For our recent clientele feedback visit out page Feel Bowen's Testimonials.
The Bowen Technique was pioneered by Thomas Ambrose Bowen, born in Geelong, Australia almost 100 years ago. He used his thumbs and fingers on precise points on the body to make gently rolling moves, which aim to disturb the muscles, tendons, soft tissue and energy within the body. The treatment is performed by applying gentle pressure which together sequence into 'procedures' that work on a deep, dynamic and often profound level.
Neck Pain and whiplash have also been known to cause migraines and headaches, as well as seemingly unrelated issues such as tinnitus, eye and respiration problems. Bowen Technique has been successful in resolving Whiplash and neck problems in the past and is becoming a more and more popular treatment.