Carpal Tunnel and RSI Bowen Treatment
Feel Bowen use Bowen Therapy to treat people suffering from Carpal Tunnel and RSI and other related injuries e.g. sports injury, heavy lifting, vibrating manhinery (neumatic drill, chain saw) and computer use.
Problems with the this injury can be triggered for a number of reasons and the effects can be devastating to their sufferers.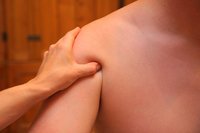 Bowen is a holistic, non invasive and comfortable therapy using gentle rolling movements over specific points of the back. The moves are performed using thumbs and fingers apply gentle pressure which together sequence into 'procedures' that work on a deep, dynamic and often profound level.
Other Bowen Treatments
Bowen Treatments can help alleviate the symptoms of a number of other conditions such as detox, whiplash, arthritis and many more. Click here to view our full list of Bowen Treatments.
Contact Feel Bowen
To book a treatment or enquire about what Feel Bowen can do for you Contact Us today on 07721 920 372 or fill in our Online Enquiry Form.